Just browsing the Blur Forums and daysleeper posts this:


Right I have read the article.

Graham says


- They are definitely going to keep meeting up to record.
- It is only when they feel like it though and there will not be any new music from Blur this year
- Not sure whether any of it will see light of day
- Says we might see an Lp in six years or something
- They have recorded since Fools day
- He says he has written 2 solo albums.
- HE RECKONS THEY MAY BE HIS LAST TWO THOUGH!! (He fancies just listening to music for a while, although he will carry on recording for a while)
- Doesn't know how many songs he has in him anymore and says "I'm not this regurgitator of songs, like Damon is."


Hm, if the article's from NME magazine, it should be pretty accurate. But I mean, we will see an LP in 6 years? And Graham has already written enough songs for 2 solo albums? Talk about the wait!

Nevertheless, if he does scan it (like he says he was too tired to do) then we may begin to see it online
and in the news forums. Read the article by clicking on the picture below.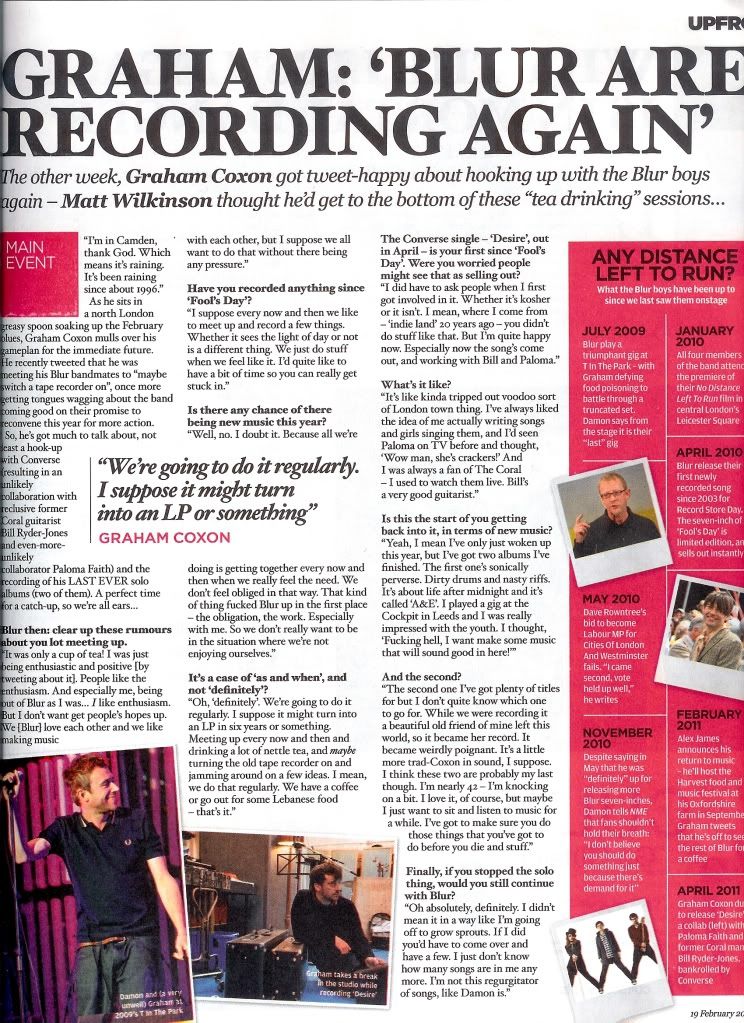 Thanks beatfloh for the scan.
What do you all think? Do you want to wait that long ? Write your thoughts in the comments section.
Also the Brit Awards 2011 yesterday saw Take That take the title for "Best British Group". Gorillaz didn't win.
Take That robbed Gorillaz ... grrr
Stay tuned on more updates and gossip from the Blur forums!