It's time for a review! Since I have no chance of seeing Doctor Dee live, I will present to you the first proper review, by The Guardian, on Doctor Dee - Damon Albarn's opera, which premiered last Friday night at the Manchester International Festival 2011.


It is perhaps as much a disservice to call the 16th century alchemist and astrologer John Dee a Renaissance man as it is to refer to
Damon Albarn
as the former frontman of Blur. Neither scratches the surface of their achievements.
Dee was an occultist, hermetic and spiritual advisor to Elizabeth I who appointed the Queen's coronation day through the alignment of the planets.
A world famous scholar who dabbled in the undefined area between science and sorcery, he was reputed to be the model for Marlowe's Dr Faustus and Shakespeare's Prospero. And by applying Euclidean principles to navigation, he laid the visionary blueprint for the British empire.
Now latter-day polymath Albarn has created an
opera
based on the life of this mysterious philosopher. The pairing seems irresistible: an inscrutable but undeniably beautiful meditation on Englishness inspired by the man who coined the term "Britannia" and written by a musician who made it cool.
Dr Dee is an erudite affair, inspired by the philosopher's exile to Manchester in the 1580s, where he founded the English speaking world's first public library. It's extraordinary to think that whereas Albarn has been bringing himself up to speed with concepts of hermeticism, Euclidian geometry and Rosicrucianism, his erstwhile Britpop rival Liam Gallagher has formed Beady Eye.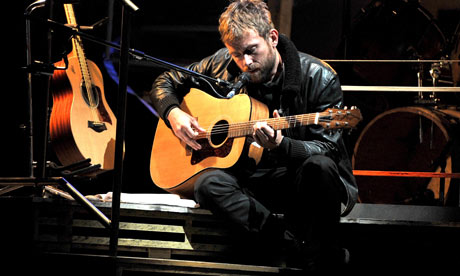 Damon Albarn performs on the preview night of the opera 'Dr Dee' at Manchester Palace Theatre. Photograph: Shirlaine Forrest/WireImage
Even so, Dr Dee is by no means an opera in the conventional sense. Instead director Rufus Norris lays on a sumptuous array of scenes and tableaux that draw upon the lavish stage mechanics of an Elizabethan masque. If there's a parallel to be drawn it might be with Berlioz's similarly grandiose "dramatic legend" the Damnation of Faust.
You suspect that the main reason Albarn creates a sound-world combining kora, theorbo, and Afrobeat drummer Tony Allen is because he can. More contentious is his decision to cast himself as a kind of troubadour-narrator, as it slightly negates the dramatic function of Bertie Carvel's Dr Dee, whose role becomes largely mute.
Yet there is genuine dramatic frisson delivered by the ice-cold counter-tenor of Christopher Robson as Edward Kelley, the psychic or "scryer" who became Dee's ultimate undoing.
Dee commissioned Kelley to commune with the angels; the angels apparently suggested that Kelley be allowed to sleep with the Doctor's wife.
Albarn's opera can seem obscure and sometimes wilfully perverse. But it reaches to the heart of the tragedy of an overreaching intellect destroyed by a deal with a second-rate Mephistopheles. Dee was haunted by his shortcomings: "You know I cannot see, nor scry" he lamented.
Yet for Albarn, who ends the evening triumphantly aloft against a panorama of the cosmos, the scry's the limit.
Pretty good review, in fact it's EXCELLENT. Damon's reached a whole new level with his opera performing, and I can't wait for footage of it to surface, or perhaps there'll be a soundtrack album like Monkey Journey to the West.
You must watch Damon Albarn talk about Doctor Dee in the video below. He discusses his opera (mistakenly named "Dr. John Dee" in
The Guardian's
website ! ) ahead of it's premier on Friday Night in Machester International Festival.
Enjoy! And I would like to announce BlurBalls reached a GOOGLE PAGERANK of 3/10. What an achievement! I'm chuffed! All thanks to you guys who link back, tweet and support.
Stay Tuned and remember to

subscribe

and

"LIKE" BlurBalls on Facebook

, or email subscribe to receive the latest news on everything Blur, Gorillaz, Damon Albarn and Graham Coxon!
If you missed old news, visit the NEWS ARCHIVE to read about past news!